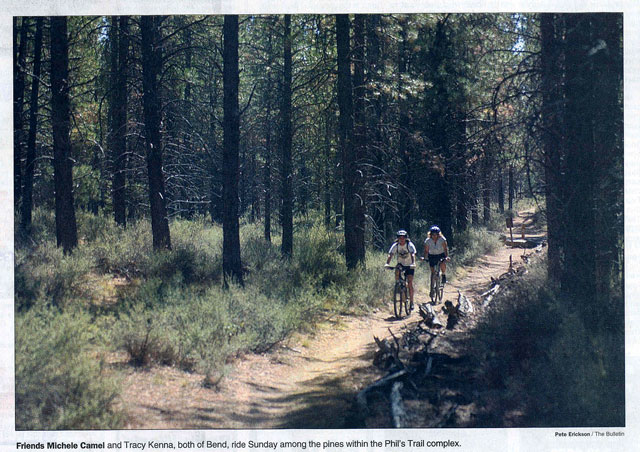 Last Friday, I took one of my favorite drives over the mountain to Bend for the day, to be by myself on the sunny side of Oregon. After spending 8 years in Southern California, I expect to suffer sunlight withdrawls during Oregon's grey and endlessly dreary winters, so I gotta chase sunshine or else I'd wind up in a mental institute like
Costanza's nemesis Lloyd Braun
.
Everything was smoothe sailing in the
110,000 mile Audi
, moving at a comfortable 80-85 mph all the way into Warm Springs, making use of the rest stop along The Deschutes River, directly across from the highly rated Rainbow Market. Somehow, I always have to stop here to get out and walk, taking in the fresh air, and watching the rafters setting out on their two day trip down river into
Maupin
.
I arrived in Bend at 11am, with my first stop at the Bend Burger in the heart of downtown, where I watched a Knife River road crew employee devour a big cheeseburger, enjoying his "Putting Oregon Back to Work" per diem from this year's "Federal Re-Pave Already Well Paved Roads" campaign.
After watching Knife River guy doing his
Audrey Griswold in European Vacation impersonation
, just with a cheeseburger, I watched about ten COCC and OSU-Bend students nibble on their food like a meek pack of OSU-Corvallis sorority girls at Togos ordering a "6 inch turkey on whole wheat with mustard, lettuce, tomato, and pickle" AKA "The Sorority Girl Special." The COCC/OSU kids were sporting the hipster/punk look (I think that's what it is), with the pegged black jeans, pants up to the bottom of the butt, and flat-billed black hat with some kind of ass-kicking MMA/TapOut/Ed Hardy/insert Skater Company Name here logo on it.
What's with the pegged pants look anyway? I last remember it in 2nd grade. Now, it's everywhere. Strange to think of Bend, a year around outdoor paradise, is now filled with boys wearing girls pants yet doing the MMA cage fighter thing. Hmm.
Beyond hungry and finnicky eaters, it was fun watching all the dogs walking by with their owners. Everyone in Bend seems to have a dog. Mostly, the mixed breed combos you get from rescue shelters. Every store has a fresh water bowl out front. Reminds me of Del Mar, CA in that respect.
Next, it was out Century Drive to Phil's Trail, the purpose of the trip, past eye-catching new home construction. I say eye-catching, because, me, being a completely bearish and realistic housing observer and participant, can't believe they're still building new homes. Why? And don't give me that crap about "Well, their not building any more land. The price can only go up." That stupidity was acceptable in 2005 when you justified getting caught up in a $100,000 bidding war to get some sterile, "Tuscan inspired," tract house out in the middle of nowhere, in places like Temecula or Murrieta, CA, where the nearest $60,000/yr job could be found 75 minutes away.
God, I suffer from serious bouts of getting sidetracked, and repressed hostility over all the ridiculous stuff I heard people say during the fraudulently "frothy" financial bubble.
Okay, really, onto Phil's Trail. I'm serious this time.
Heading out Century Drive I see giant houses on the left and know I'm getting close. Phil's Trail awaits me at the next road, some Forest Service road marked by a little green sign with four numbers. About a quarter mile down the road, I came to 40 or so cars parked. I'm impressed, this is noon on Friday and the place is packed. People, kids, dogs, mountain bikes. Bend-onians, or Bendonites, or Bendiegoans, definitely live the good life all year around.
I set out on Phil's Trail, which is just one of a half dozen trails leaving from the parking lot for a 3-4 mile hike. The scenery is everything you'd expect from The Deschutes National Forest - sparsely placed Lodgepole Pines, creating lots of open space and visibility, where if you have to go #1 in the woods, you better be quick or else a mountain biker will be watching you from 1,000 yards out, closing in within 45 seconds. (Happened twice).
Phil's Trail has great single-track. I probably had 100 mountain bikers pass me. Every one of them was extremely friendly. It was like The Truman Show for friendliness, only with extremely fit, outdoorsy people. Gotta love Phil's Trail.
I'm heading back in two weeks to get my fill of sunshine in the high desert. By then, we should have had 14 days of rain and lots of snow on Mt. Hood. Gotta hold true to my personal pact to chase sunshine this winter.